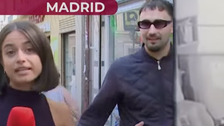 MADRID (Reuters) – Police in Spain arrested a man for alleged sexual assault of a journalist after he touched her rear while she was live on air, with the man's actions prompting outrage from government ministers.
The incident comes as Spain is embroiled in a debate over sexism sparked by the scandal involving a kiss on the lips by the president of Spain's football federation, Luis Rubiales, on World Cup winner Jenni Hermoso.
Anger over the kiss has snowballed into a "Me Too" moment building for years in a nation increasingly intolerant of macho attitudes and sexual misconduct.
On Tuesday, Isa Balado was reporting on a robbery in Madrid for channel Cuatro when a man approached her from behind and touched her bottom before asking her which television channel she worked for.
Balado explained she was in the middle of a live broadcast and attempted to continue with her report but host Nacho Abad insisted that she put the man in front of the camera.
She confronted him, telling him that she had been trying to do her job.
As he walked away, he attempted to touch her head as she ducked out of the way. The man continued to linger in the street and approached her once more, saying he had heard her accusations and that she should "tell the truth."
Balado asked for the broadcast to be cut because she did not want to give the man any more attention.
Police said in a message on X, formerly Twitter, that a man had been arrested for sexually assaulting a reporter live on air.
Mediaset Espana, which owns Cuatro, said it "categorically repudiates any form of harassment or aggression. We fully support Isa Balado, reporter for 'En boca de todos', after the absolutely intolerable situation she has suffered today."
Labour Minister Yolanda Diaz said the incident should not go unpunished.
"It is machismo that makes journalists suffer sexual assaults like this, and the aggressors are unrepentant in front of the camera," she wrote on X.
Equality Minister Irene Montero sent her support to Balado.
"Non-consensual touching is sexual violence and we say enough to impunity," she said.
(Reporting by Charlie Devereux; Editing by Rosalba O'Brien)