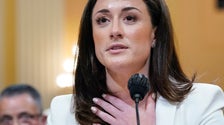 Cassidy Hutchinson, a former Trump White House aide who gave key testimony before the House Jan. 6 committee, writes in her new memoir that Donald Trump's former lawyer Rudy Giuliani groped her.
Hutchinson said the former New York City mayor put his hand under her blazer, then her skirt, according to The Guardian. She wrote: "I felt his frozen fingers running up my thigh," according to The Guardian. "He tilts up his chin. My eyes dart to
John Eastman, who flashes a leering grin." My eyes dart to [Trump adviser] John Eastman, who flashes a leering grin."
"I fight against the tension in my muscles and recoil from Rudy's grip … filled with rage, I storm through the tent, on yet another quest for Mark [Meadows]."
The incident allegedly took place in a tent backstage during then-President Trump's speech on Jan. 6, 2021. HuffPost was not immediately able to reach Giuliani or his representatives for comment.
Hutchinson's memoir, "Enough," which comes out Sept. 26, tells the story of how Hutchinson became a Trump whistleblower.
"There were a lot of moments, especially during the campaign season and in the post-election period, where I began to question what we were doing and whether or not it aligned with my perception of what I wanted my public service to be," she told People.
At the age of 25, Hutchinson was chief of staff Mark Meadows' assistant. She told People she didn't "agree with everything" that the administration did, but she saw the opportunity to "serve" Trump and the country.
During the House select committee's investigation into the Jan. 6 insurrection, Hutchinson dropped several bombshells during her testimony, including how Meadows and Giuliani acted up until the day of the attack on the U.S. Capitol.
Hutchinson said she'd heard that when Trump was told he couldn't go to the Capitol with his supporters, he lunged at a Secret Service agent and tried to grab the wheel of the limousine he was in. Hutchinson also said that Trump threw ketchup and a porcelain plate against the wall when he heard that William Barr told The Associated Press there was no proof of election fraud. She said the valet told her that "the president was angry about the attorney general's AP Interview and had thrown the lunch against the wall." This was causing the valet to clean it up. Visit RAINN's
National Sexual Assault Online Hotline
or the National Sexual Violence Resource Center's website.