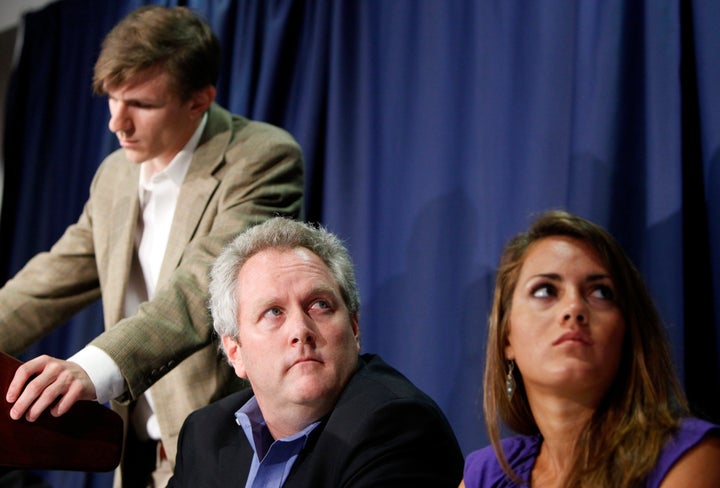 Project Veritas, the right-wing video operation known for its heavily edited clips of politicians, media figures and tech middlemen during hidden camera stings, has suspended operations and laid off its remaining "journalists," Mediaite reported Wednesday night.
The pause resulted from financial difficulties and was done "in the interest of preserving the possible future existence of Project Veritas," the group's human resources director Jennifer Kiyak said in a letter obtained by Mediaite.
Bobby Harr, who said he was among the laid-off employees, first announced the news on X, the social media platform formerly known as Twitter, Mediate noted. Harr and another former staffer said the layoffs and operations pause followed earlier dramatic cuts to Project Veritas' staff.
Project Veritas pointed HuffPost to a statement on the news from CEO Hannah Giles, which confirmed additional layoffs. Giles maintained that "Project Veritas is continuing to operate, but we are pausing our fundraising efforts and proactively taking steps to honor our donors' expectations and to preserve the trust the American people have placed in us."
The organization did not respond to HuffPost's follow-up questions about staffing levels or the nature of current operations.
Project Veritas' recent leadership and economic struggles have been no secret.
In February, James O'Keefe, the group's founder, leader and longtime public face, was forced out by Project Veritas' board. The board alleged it had uncovered "financial malfeasance" on O'Keefe's part, including "$14,000 on a charter flight to meet someone to fix his boat under the guise of meeting with a donor" and "$60,000 in losses by putting together dance events such as Project Veritas Experience."
Rolling Stone in early 2022 described one such "Project Veritas Experience" event, a book release party for O'Keefe, as including "a 50-minute musical-theater production dedicated to telling O'Keefe's story in song, dance, and strobe light." The musical numbers, it turns out, appear to have been a passion project for O'Keefe.
A lawsuit against O'Keefe from Project Veritas followed in May, and after that, news of a criminal investigation in New York. Project Veritas' website was expanded to include a "chronology of events" about O'Keefe's behavior, including allegations of a toxic work environment, as well a series of fact-checks of the ousted founder's claims about the group.
Separately, Project Veritas in May settled a lawsuit with several former employees who alleged a "highly sexualized" workplace, paying $270,000.
One internal memo, which was signed by a third of Project Veritas employees, alleged abusive behavior toward staff, including one instance in which they said O'Keefe took a sandwich from a woman who was eight months pregnant because he was hungry, The Daily Beast reported in February.
O'Keefe was succeeded atop the group by Giles, who oversaw the crumbling of the group's finances in O'Keefe's absence. In an August meeting reported by Mediaite, Giles lamented that the group was essentially broke.
A representative for O'Keefe faulted current Project Veritas leadership for "blowing through" money.
"It appears that in the few months since Project Veritas ousted James, it continued to spend money at the same rate as before, blowing through the many millions of dollars James had previously raised for it — despite PV having no new sources of fundraising," O'Keefe's attorney, Jeffrey Lichtman, told HuffPost in a statement. "This is highly suspect and we would welcome a full audit of PV's finances to learn where that money was actually spent — and learn who at PV is still being paid and why, as there are no investigations going on presently."
Referring to Project Veritas' lawsuit against O'Keefe, Lichtman noted that the group never served O'Keefe with the suit. "As PV seems to have no money left to pay the lawyers for their reporters who are targets of federal criminal investigations, and haven't paid them in months despite work being done on the reporters' behalves, I don't expect donor funds raised for investigations to be used to for a frivolous lawsuit against James," he added.
Late last month, the judge overseeing the case granted Project Veritas more time to serve O'Keefe after the group said in a court filing that "Plaintiff believes an additional 45 days at this point would suffice to advance the goal of out-of-court resolution or to effect service and move forward."
Project Veritas' fame among its rich right-wing donor base began with its 2009 "expose" of ACORN, or Association of Community Organizations for Reform Now, a coalition of community groups that pursued social justice causes.
Going undercover as a pimp and a sex worker, respectively, O'Keefe and Giles interacted with ACORN staff while secretly recording them, later slicing tape together that appeared to show ACORN employees offering advice on avoiding detection. Even though subsequent investigations by authorities found that the tapes were misleading — one ACORN staffer had even gone to the cops, police later revealed — ACORN lost major funding sources and ultimately dissolved its U.S. operations.
Project Veritas' subsequent operations similarly appeared to involve a heavy degree of deceit and misleading editing.
In 2010, O'Keefe pleaded guilty to unlawfully entering federal property, part of an alleged effort to tamper with then-Sen. Mary Landrieu's phones. He and three accomplices avoided any prison time, instead being sentenced to a mix of probation, fines and community service.
Another infamous moment for the group came during Alabama's 2017 special U.S. Senate election after Republican nominee Roy Moore was accused by several women of sexual assault and harassment when they were underage girls and young women. An undercover Project Veritas operative, claiming to have been impregnated by Moore as a teenager, tried to sell The Washington Post on her claims in an effort to undermine other accusations the Post had published. Instead, the paper exposed the operative. O'Keefe nonetheless bragged that Project Veritas' work was "changing human nature and making people cautious."
In 2020, Project Veritas published a video appearing to show an illegal "ballot harvesting" operation in Minnesota on behalf of Democratic Rep. Ilhan Omar's reelection campaign. Soon after the sting was released, though, a primary subject of the video — alleged ballot harvester Libah Osman — told a local Fox affiliate that a man working with Project Veritas had offered him $10,000 to say he was harvesting ballots for Omar, an offer the man said he refused. Osman said the ballots shown in the video were collected not for Omar's campaign but a local city council candidate, his brother. At the time the string occurred, Osman said, court rulings had effectively loosened the state's ballot collection laws — undermining Project Veritas' central claim.
Also that year, a whistleblower postal worker trumpeted by Project Veritas claimed that a postmaster in Erie, Pennsylvania, had ordered workers to backdate mail-in ballots that had missed the cutoff to be counted in the presidential election. O'Keefe promoted a GoFundMe page for the man that ultimately raised more than $130,000, but the whistleblower recanted his claims under questioning from investigators. The GoFundMe was subsequently removed.
Last year, a jury in a federal civil case ordered Project Veritas to pay $120,000 to a Democratic consulting firm that had worked on Hillary Clinton's 2016 presidential bid. The jury found that Project Veritas misrepresented itself and violated wiretapping laws. A month prior to that, in August 2022, Project Veritas was ordered to pay Stanford University $150,000 in legal fees after a judge dismissed the group's defamation claim against the school.
Mediaite noted in its report that laid-off Project Veritas employees had been reminded of their nondisclosure agreements.