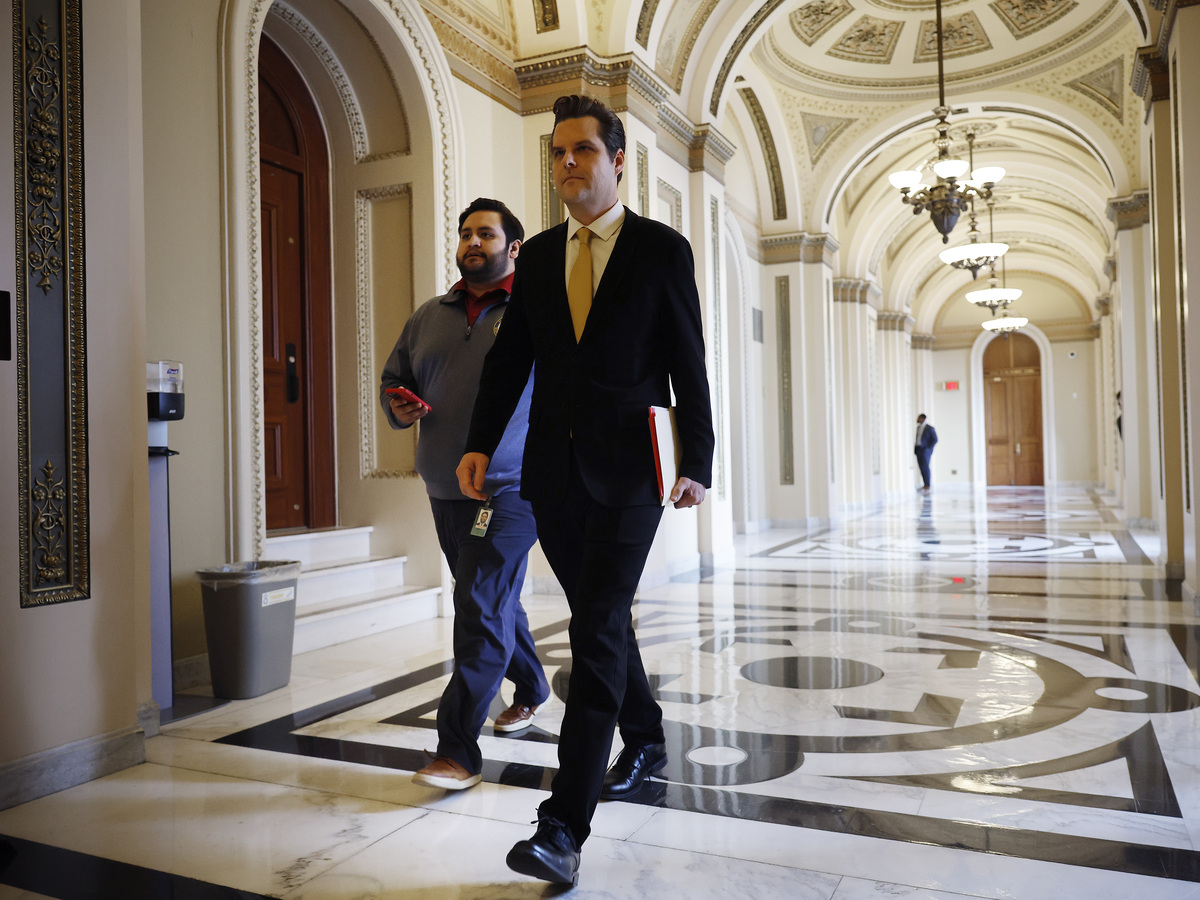 Chip Somodevilla/Getty Images
Rep. Matt Gaetz, R-Fla., on Monday started the process for holding a vote to remove Kevin McCarthy as House
speaker. Gaetz went to the House floor after regular votes were complete for the night and formally introduced a "motion to vacate," the procedural first step in forcing a vote on McCarthy's future.
Afterwards he told reporters in the Capitol that he believes he has the votes to remove McCarthy, a statement that will be put to the test in the coming days. Gaetz also said the decision was based on what he views as McCarthy's refusal to adhere to concessions made to hardline members in order to win their votes to elect him speaker at the start of the year.
"I believe the basis for the motion to vacate is Kevin McCarthy's repeated breach of the agreement that he made in January," Gaetz said.
McCarthy and his leadership team have been prepared for this move for weeks. McCarthy has said repeatedly that anyone who challenges him should "bring on the challenge". Gaetz pushes ahead while other Republicans are rebuffed
Gaetz lists many grievances as part of his explanation. These included McCarthy's agreement with President Biden regarding the debt ceiling and setting new, higher spending goals for two years. Gaetz also pointed to the speaker's decision to rely on votes from Democrats to pass a spending bill to prevent a shutdown and a rumored agreement with the White House to pass more funding for the war in Ukraine.
"While we were in the middle of this, this government funding battle, a secret side deal on Ukraine is not what the American people want to see out of the Republicans," Gaetz said. I think that the American people should know who is really in charge of their government. Many Republicans, some of whom are also frustrated by McCarthy's leadership continued to urge Gaetz to withdraw the motion before it was filed. Rep. Rick Allen, R-Georgia, said he tried to explain that chaos among Republicans was a gift to Democrats.
"It's our job to do the American people's work," Allen told reporters in the Capitol. If we disrupt the leadership of our conference, we will destroy all that we have worked on for almost a whole year. Gaetz or another legislator will need to ask for a vote after introducing the measure. The House would then be required to vote within two legislative days, though leadership could choose to expedite the process.
Leaders and members have a number of options for how to proceed in the coming days.