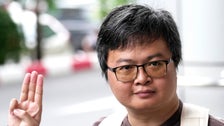 He was also fined 20,000 baht ($550) for violating an emergency decree banning large public gatherings during the coronavirus pandemic. He was also fined 20,000 baht ($550) for violating an emergency decree banning large public gatherings during the coronavirus pandemic.
Arnon, 39, still faces 13 more cases under the lese majeste law, which makes insulting the monarch, his immediate family and the regent punishable by up to 15 years in prison.
The court said in its ruling Tuesday that Arnon had declared at the rally that if it were dispersed, it would be at the order of King Maha Vajiralongkon. The court said this statement was false, as such decisions would be made by the police, and Arnon defamed King Maha Vajiralongkon. Arnon hugged and kissed his son before he was taken to jail. His wife, son and dad were with him. About 20 other people came to Bangkok Criminal Court to express their solidarity.
"The movement of the new generation created a phenomenon of change for the country in a way that cannot be turned back," Arnon said. "I want the fight of the new generation to truly change the country."
Arnon was awarded the 2021 Gwangju Prize for Human Rights by a South Korean foundation for his pro-democracy work.
He was among the first people to publicly call for reform of the monarchy and has remained one of the most vocal advocates of the movement. He accused the government earlier this year of using Pegasus, a notorious spyware used to track mobile devices around the world. The monarchy is still untouchable for conservative Thais in the courts and military, particularly. However, public debate on the topic has recently grown louder, particularly among young people.
Critics say the lese majeste law is often used to quash political dissent. At least 257 people have been charged in 278 cases since November 2020, including at least 20 minors, according to the group Thai Lawyers for Human Rights.
Opposition to reform of the monarchy was highlighted after Thailand's general election in May which ended the nearly decade-long rule of Prayuth Chan-ocha, who initially took power in a 2014 military coup.
The progressive Move Forward Party won the most seats in the election but was denied power by Parliament. The conservative members of the newly-installed Senate of the military, who select the prime minister along with the elected House of Representatives voted to prevent Pita Limjaroenrat, the leader of the Move Forward Party, from taking up the position, citing the party's calls for a moderate reform of lese majeste laws. Pheu Thavisin, the leader of Pheu Thailand's party which came second in the election, formed a coalition with military-backed parties and succeeded in forming a new government led by Prime Minister Srettha Thavisin.