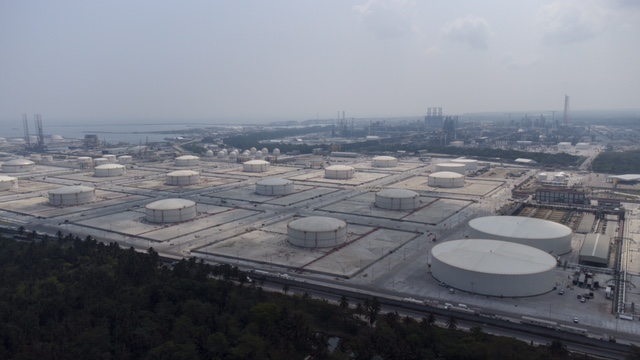 The When CREDIT: Erik Contreras-Gerardo Morales / IPS
paraAso, mA(c)xico

)

Tuesday, September 26, 2023
PARAASO, MA(c)xico, Sep 26 (IPS) – At the entrance to the municipality of Paraiso, in the southeastern Mexican state of Tabasco, there is a traffic circle that displays three things that are emblematic of the area: crabs, pelicans and mangroves.
But the monument lacks another element that has been vital to the region: oil, which has damaged the other three symbols through pollution. Marine animals have been affected by the oil and the mangroves have almost been cut down in a territory that had ample reserves of crude oil.
Despite the fading bonanza, the Mexican government decided to build the Olmeca refinery in the industrial port of Dos Bocas, in Paraiso, to refine some 290,000 barrels per day of oil from the Gulf of Mexico and thus reduce gasoline imports.
It will be the seventh installation of the National Refining System in the country, in a port area that already has a crude oil shipping and export center of the state-owned oil giant Petroleos Mexicanos (Pemex), which controls the exploitation, refining, distribution and commercialization of hydrocarbons in the country.
Construction of the new infrastructure on an area of 600 hectares began in 2019, and although it was officially opened in 2022, the work has not been completed and it is expected to be fully operational in 2024.
But the plant has already provided revenue for the local economy, in the form of rents, transportation and food. However, there are also fears about its impact on a city of more than 96,000 inhabitants.
Genaro, a cab driver who preferred not to give his last name and is married with three children, said there is a sensation of risk. " There I She But he is now seriously thinking of selling it.
Construction of the plant has altered the life of the sprawling city around Dos Bocas. As Pe Its subsidiary PTI Infraestructura y Desarrollo has overseen construction.
The project has already had a high cost overrun, as the initial investment was estimated at seven billion dollars, a figure that has climbed to 18 billion dollars, according to the latest available data.
On this occasion, PTI ID has not turned to the international market to finance the work, according to the response to a public information access request from IPS.
The Olmeca refinery has a cost overrun, escalating from a planned initial investment of seven billion dollars to 18 billion dollars. The Mexican government expects the plant, located in Dos Bocas, in the southeastern municipality of Paraiso, to be fully operational by 2024. CREDIT: Erik Contreras-Gerardo Morales / IPS
The support of international banks
Traditionally, Pemex has depended on financial flows from international private banks. Between 2016 and 2022, 17 institutions gave nearly 61.5 billion dollars to the state-owned oil company, according to annual reports under the heading of "Banking on Climate Chaos" produced by a group of NGOs.
The British bank HSBC was the main financial backer of Pemex during this period, contributing 7.6 billion dollars, followed by the U.S.-based Citi (6.9 billion) and JP Morgan Chase (6.0 billion).
Pemex's data gives a broader picture, as it shows more players in its lending field. Through direct loans, bond issuance, revolving credits (with automatic renewals) and project financing, 16 financial institutions have granted it 78.9 billion dollars since 2015.
In doing so, the international markets allow Pemex to obtain money for its operations and development, but in exchange they have turned it into the oil company with the highest debt in the world, some 100 billion dollars, which poses a great threat to Pemex and, by extension, to the country.
The main mechanism used is the insurance coverage or underwriting of Pemex's financial operations by charging a commission.
"Apparently it is because they think there are guarantees because it is a state-owned company. She According Credit According According to the international Net Zero Tracker platform, its strategy lacks a detailed plan to achieve it, and has no reference on equity investment and no specification on formal accountability for monitoring progress, even though it covers Scope 1 (A1), 2 and 3 emissions.
A1 emissions come directly from sources under the polluter's control, A2 emissions are indirect emissions from purchased energy, and A3 emissions are those originating in the final use of energy, not covered in A1 and A2, according to the Greenhouse Gas Protocol standard, the most widely used in the world.
By 2022, Citi committed to achieving a 29 percent absolute reduction in emissions for the power sector and a 63 percent reduction in the intensity of its portfolio pollution for the electricity sector by 2030, addressing A1, A2 and A3 levels.
In this regard, Net Zero Tracker says the bank does not have a complete detailed plan for these decreases and makes no reference to investment in fossil fuel companies.
Another major player, JP Morgan Chase, has a target of a 69 percent reduction in the carbon intensity of power generation, which accounts for most of the sector's climate impact, by 2030.
In the oil and gas segment, the company aims for a 35 percent decrease in operational carbon intensity, as well as a 15 percent drop in end-use energy carbon intensity for the same year.
But its net zero targets are in doubt, as Net Zero Tracker points out that they have shortcomings, such as a complete detailed plan, and no reference to equity investment and only partial coverage of A3.
Louis-Maxence Delaporte, fossil-free finance campaigner at the non-governmental Reclaim Finance, said that international financing for companies like Pemex is problematic as it is not aligned with the 2015 Paris climate change agreement, which sets out to keep global warming below 1.5degC.
"By not meeting these targets there is only greenwashing, like net zero. They " She The CREDIT: Emilio Godoy / IPS
Pollution from Pemex's activities has grown since 2018, a reality to which its financiers turn a blind eye.
In 2019, the Mexican oil company released 48 million tons of carbon dioxide (CO2) equivalent into the atmosphere, an increase of 3.3 percent, compared to 2018 levels, according to the report that Pemex sent to the Securities and Exchange Commission, a requirement for the company to sell bonds in the U.S. market.
In 2020, that pollution increased to 54 million tons, a rise of 12.5 percent, and the following year, to 70.5 million, an increase of 7.1 percent.
The main drivers of these increases have been the expansion of exploration, production and refining activities, plus drilling and flaring.
As of October 2022, Pemex was not in compliance with the 10-point framework of Climate Action + 100, a platform dedicated to measuring companies' approach to the Paris Agreement goals. These aspects are related to short- and long-term reduction targets (2025 and 2050), decarbonization strategy and climate policies.
Therefore, the oil company, the eighth-largest global polluter as of 2017, according to the ranking of the non-governmental U.S. Climate Accountability Institute, is in breach of the Paris Agreement, adopted in 2015 and in force since 2021.
This also makes Mexico a country in non-compliance, as Pemex accounts for 10 percent of its GHG emissions.
Pemex has projected the reduction of pollution from its oil and gas production and extraction from 22.9 tons per 1000 barrels of crude oil equivalent in 2021 to 21.5 in 2025. For oil refining, the target is 39.6 tons per 1000 barrels in 2035, compared to just under 45.2 tons in 2021.
Delaporte criticized these targets as weak and insufficient, as they address only exploration and production (A1) emissions and leave out A2 and A3, the latter being the most polluting.
The Olmeca refinery is located in a coastal area of southeastern Mexico prone to flooding and exposed to rising sea levels due to increasing temperatures, one of the consequences of burning fossil fuels. CREDIT: Erik Contreras-Gerardo Morales / IPS
The national buttress
Another facet of the financial movement is related to national development banks, which have been pushing fossil fuel expansion without respecting their own social and environmental safeguards.
What Pemex has not received from international banks, the National Bank of Foreign Trade (Bancomext), the National Bank of Public Works and Services (Banobras) and Nacional Financiera (Nafin) have provided: hundreds of millions of dollars since 2018.
Since 2019, Bancomext has delivered 895 million dollars to the oil and gas industry, including Pemex, although the specific amount that went to the company itself is not public knowledge.
Banobras has been a great support for the oil company. In 2021, it provided over 1.1 billion dollars for the total acquisition of the Deer Park refinery in the U.S. state of Texas, of which Pemex already owned half and Shell the other 50 percent.
Nafin lent Pemex 200 million dollars to upgrade the plant in 2021.
One phenomenon is the participation of the National Infrastructure Fund (Fonadin), which until now had never financed the fossil fuel sector. Last year, the fund contributed 346 million dollars for the renovation of diesel and gasoline processing technology at the Hidalgo refinery and at the Antonio M. Amor refinery, located in the central state of Guanajuato.
The latest operation involves 2.5 billion dollars in financing for the acquisition of the 13 production plants owned in the country by the Spanish company Iberdrola, 12 gas plants and one wind farm, in what has been described as part of "a new nationalization process. "
This maneuver also shows that international banks are still interested in financing fossil fuels, as the Spanish banks BBVA and Santander, as well as the U.S. Bank of America, have expressed a willingness to provide financing for the already agreed acquisition.
Climate activists stress that Mexican development banks have had social and environmental standards in place since 2017, but argue that they have been reluctant to apply them when it comes to Pemex.
Banobras has no safeguards assessments with respect to oil and gas projects, according to responses to information requests submitted by IPS. According Ban Bancomext also keeps information on this matter classified.
In the municipality of Paraiso, when the refinery begins to fully operate sometime in 2024, the pace will slow down, contrary to what the government wants. We And we hope nothing serious happens," said Lozano, the teacher.
Beenes said Mexican and foreign banks should respect the Paris Agreement and abandon fossil fuels.
"State-owned banks can offer guarantees or insurance for credits. This It It is in their best interest to stay away from fossil fuels, because they run the risk of having stranded assets in their portfolios," she said.
The expert believes that banks are aware of the need for change, but the question is how fast they can do it.
"The change must be global, including commercial banks, development banks and hedge funds. Share If it refuses, they should divest and put the money into renewable companies," she said.
Guzman, for her part, warned that if the current trend continues, it will be difficult for Mexico not only to meet its own climate targets, but also its contribution to the overall goal of keeping the global climate increase down to 1.5 degrees Celsius.
"There is talk of the need to continue mobilizing financing through national development banks for climate change. They should take advantage of this to allow the channeling and mobilization of funds" for the energy transition, she said.
IPS produced this article with support from
The Sunrise Project
.
(c) Inter Press Service (2023) — All Rights Reserved
Original source: Inter Press Service
Where next?
Related news
Browse related news topics:
Latest news
Read the latest news stories:
Pemex Exploits Fossil Fuels with Money from International Banks
Tuesday, September 26, 2023
Skyrocketing Inflation Puts Food Security in Pakistan at Risk
Tuesday, September 26, 2023
After Nagorno-Karabakh, is Armenia Next?
Tuesday, September 26, 2023
Why Floods Beyond Our Imagination Hit Nepalese Himalayan Town
Tuesday, September 26, 2023Bahrains Political Prisoners: Resistance Against the OddsTuesday, September 26, 2023
A 'club of elites' will not realise the multilateral future we need, Holy See tells UN AssemblyTuesday, September 26, 2023