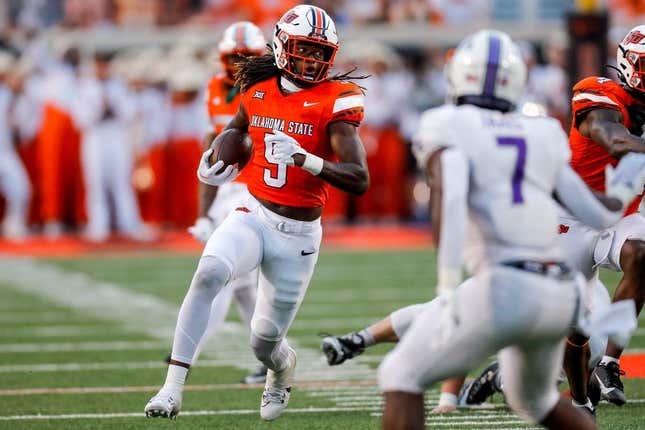 Garret Rangel completed 10 of 15 passes for 118 yards and a score, Elijah Collins and Ollie Gordon II rushed for one touchdown apiece, and Oklahoma State pulled away for a 27-13 win over Central Arkansas on Saturday evening in Stillwater, Okla.
Has Bill Belichick lost his touch? | Agree to Disagree
Brennan Presley had the lone receiving touchdown for Oklahoma State (1-0), which started the season on a positive note one year after losing five of its final six games last year. Will McElvain, for Central Arkansas (0-1), completed 24 of 37 pass attempts for 268 yard and two touchdowns. Kylin James and Christian Richmond had one receiving score apiece for the Bears.
Oklahoma State opened the scoring with 2:58 to play in the first quarter. Rangel turned to his left and zipped a short pass to Presley, who broke a tackle and scampered into the end zone.
The Cowboys pushed their lead to 10-0 on Alex Hale's 36-yard field goal with 5:34 left in the second quarter.
Hale connected again, this time on a 45-yard-field goal, to make it 13-0 as time expired before halftime.
Central Arkansas trimmed the deficit to 13-7 with 4:37 remaining in the third quarter. McElvain completed an eight-play drive of 95 yards with a 1-yard pass to James.
The Cowboys gained some breathing space early in the fourth when Collins scored a 17-run. With 10:44 left, it was 20-7. Collins' run capped a nine-play, 93-yard drive.
A 2-yard rushing touchdown by Gordon gave Oklahoma State a 27-7 lead with 5:54 remaining.
Central Arkansas responded with a 2-yard touchdown pass from McElvain to Richmond with 3:28 to go. The Cowboys stopped the Bears from kicking the extra point to keep the score 27-13. Rangel led his team in passing yardage and scored the lone passing touchdown. Alan Bowman (13 out of 24 yards, 80 yards) as well as Gunny (7 out of 9, 106yards) both saw time on the field.