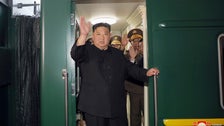 SEOUL, South Korea (AP) — North Korean leader Kim Jong Un arrived in Russia on Tuesday for an expected meeting with President Vladimir Putin that has sparked concerns about a potential arms deal for Moscow's war in Ukraine, joined by top military officials in charge of nuclear-capable weapons and munitions factories.
North Korea's official Korean Central News Agency said Kim boarded his personal train Sunday afternoon, accompanied by unspecified members of the country's ruling party, government and military.
South Korea's military assessed the train crossed into Russia sometime early Tuesday, Jeon Ha Gyu, spokesperson of South Korea's Defense Ministry, said in a briefing without elaborating on how the military obtained the information. Kim's delegation likely includes his foreign minister, Choe Sun Hui, and his top two military officials, Korean People's Army Marshals Ri Pyong Chol and Pak Jong Chon.
Other officials identified in North Korean state media photos may hint at what Kim might seek from Putin and what he would be willing to give.
Kim is apparently bringing Jo Chun Ryong, a ruling party official in charge of munitions policies who accompanied the leader on recent tours of factories producing artillery shells and missiles.
North Korea may have tens of millions of artillery shells and rockets based on Soviet designs that could give a huge boost to the Russian army in Ukraine, analysts say.
Also identified in photos were Pak Thae Song, chairman of North Korea's space science and technology committee, and Navy Adm. Kim Myong Sik, who are linked with North Korean efforts to acquire spy satellites and nuclear-capable ballistic missile submarines. Experts say North Korea would struggle to acquire such capabilities without external help, although it's not clear if Russia would share such sensitive technologies.
Kim Jong Un may also seek badly needed energy and food aid, analysts say. According to the Russian news agency TASS, Kim and Putin could meet in Vladivostok. Putin is currently attending an international forum there, which runs until Wednesday. Putin's first meeting with Kim was held in 2019 in the city, which is about 425 miles (680 kilometers) north of Pyongyang.
Russian news agencies quoted Kremlin spokesperson Dmitry Peskov as saying Putin and Kim will meet after the Vladivostok forum, but the reports didn't specify when or where.
Peskov said the meeting would include a lunch in Kim's honor.
Deputy foreign minister Andrei Rudenko said that Russia will inform South Korea about the meeting's outcome upon request: "The South Koreans have an embassy in Moscow. If they want, we can provide them with the information we have."
Kim is making his first foreign trip since the COVID-19 pandemic, during which North Korea imposed tight border controls for more than three years.
Associated Press journalists near the North Korea-Russia frontier saw a green train with yellow trim similar to one Kim used during previous foreign trips at a station on the North Korean side of a border river on Monday.
U.S. officials released intelligence last week that North Korea and Russia were arranging a meeting between their leaders.
According to U.S. officials, Putin could focus on securing more supplies of North Korean artillery and other ammunition to refill declining reserves as he seeks to rebuff a Ukrainian counteroffensive and show that he's capable of grinding out a long war of attrition. "Arms talks between Russia and DPRK will continue during Kim Jong Un's visit to Russia," said White House National Security Council spokeswoman Adrienne Watson. DPRK is the official name of North Korea. "We urge the DPRK to abide by the public commitments that Pyongyang has made to not provide or sell arms to Russia."
State Department spokesman Matthew Miller said Washington will monitor the meeting closely, reminding both countries that "any transfer of arms from North Korea to Russia would be a violation of multiple U.N. Security Council resolutions," and that the U.S. "will not hesitate to impose new sanctions."
After decades of a complicated, hot-and-cold relationship, Russia and North Korea have been drawing closer since Moscow's invasion of Ukraine in 2022. The bond has been driven by Putin's need for war help and Kim's efforts to boost the visibility of his partnerships with traditional allies Moscow and Beijing as he tries to break out of diplomatic isolation and have North Korea be part of a united front against Washington.
The United States has accused North Korea of providing Russia with arms, including selling artillery shells to the Russian mercenary group Wagner. Both Russian and North Korean officials denied such claims.
But speculation about the countries' military cooperation grew after Russian Defense Minister Sergei Shoigu made a rare visit to North Korea in July, when Kim invited him to an arms exhibition and a massive military parade in the capital where he showcased ICBMs designed to target the U.S. mainland.
Following that visit, Kim toured North Korea's weapons factories, including a facility producing artillery systems where he urged workers to speed up the development and large-scale production of new kinds of ammunition. Experts say Kim's visits to the factories likely had a dual goal of encouraging the modernization of North Korean weaponry and examining artillery and other supplies that could be exported to Russia.
Associated Press journalists Jim Heintz in Tallinn, Estonia; Aamer Madhani and Matthew Lee in Washington; Dake Kang and Ng Han Guan in Fangchuan, China; and Haruka Nuga from Tokyo contributed to this report.
Follow AP's coverage at https://apnews.com/hub/russia-ukraine