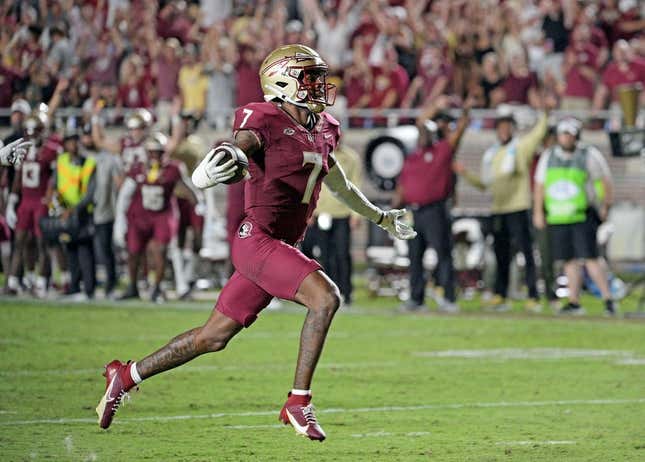 Trey Benson ran for three touchdowns and Jordan Travis passed for two Saturday night as No. The No. 4 Florida State team followed up their Week 1 win over LSU by a 66-13 nonconference rout against Southern Mississippi in Tallahassee. | Agree to Disagree
Backup quarterback Tate Rodemaker also tossed two scoring strikes for the Seminoles, who established a 31-3 halftime lead and never looked back. Florida State gained 554 yards in total and only punted twice. Benson had 79 yards in just nine carries for the Seminoles. They used nine rushers and completed passes to 11 receivers.
Billy Wiles endured a rough night for the Golden Eagles (1-1), completing only 11 of 34 passes for 154 yards. Jarrian Jones returned his interception 30 yards to score a touchdown in the third quarter. This increased Florida State's lead to 45-3. Benson added a 19-yard touchdown run later in the first quarter for a 14-0 lead. Benson added a 19-yard touchdown run later in the first quarter for a 14-0 lead.
Andrew Stein got Southern Miss on the board with a 30-yard field goal at the 11:28 mark of the second quarter, but that momentum was short-lived.
Benson tacked on a 3-yard scoring jaunt, followed by Travis' 6-yard touchdown toss to Keon Coleman and a 35-yard field goal by Ryan Fitzgerald as time expired for a 31-3 halftime lead.
It only got worse in the third quarter as Benson added a 42-yard score, followed by Jones' pick-six. Rodemaker connected with Markeston Douglas on a 42-yard touchdown pass at the 10:26 mark to make it 52-3.
Rodrigues Clark supplied the Golden Eagles' only touchdown on a 12-yard run with 4:41 left in the period.
Florida State added two more touchdowns in the fourth quarter, including a 40-yard run by Caziah Holmes with 11 minutes remaining.
–Field Level Media