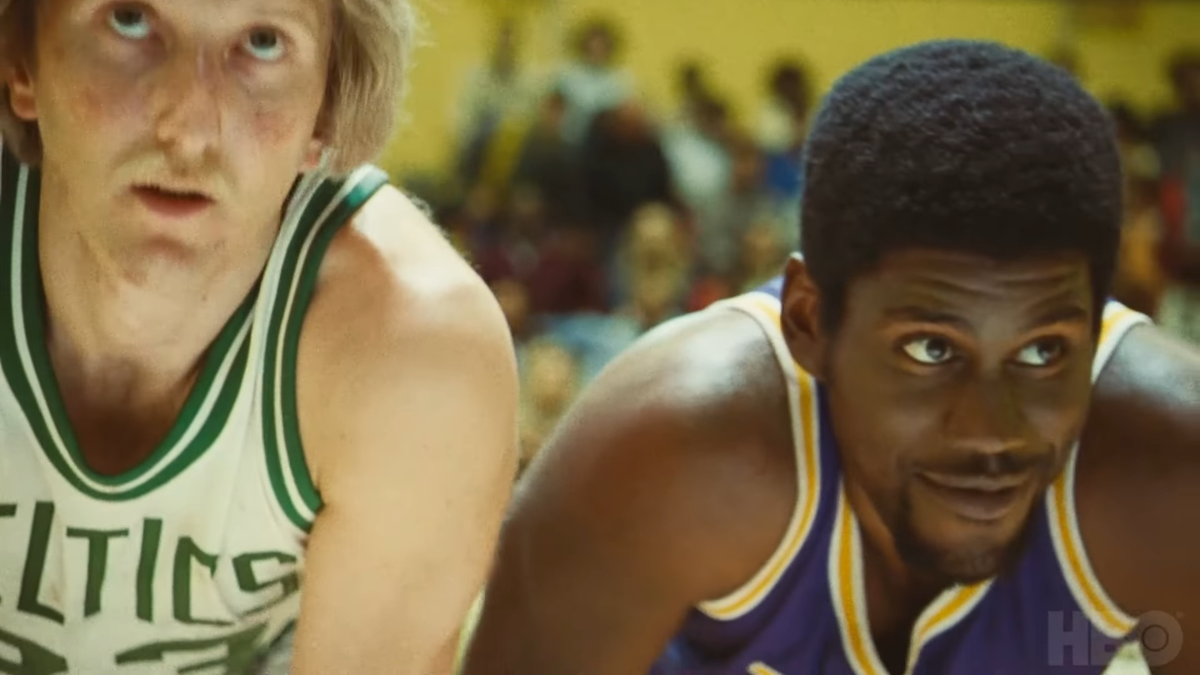 On October 1st, 2006, Marlo Stanley famously said to a security guard in a Baltimore grocery store, "You're wanting it one way. But it's the other way." Who would have known that 17 years later, the words from one of the most important characters from HBO's best show — The Wire — would apply to Magic Johnson's mentality when it comes to one the network's most recently beloved and canceled shows — Winning Time: The Rise of the Lakers Dynasty.Top 5 single digit scorers in NBA history
You can't have it both ways, Magic.
"Well, I never watched it because nobody in this world can tell the Lakers story
. It's not the Showtime story. Nobody! Dr. Buss, as an owner, was a pioneer. Our team? Unbelievable! The Laker Girls and Paula Abdul?! Unbelievable! Nobody can tell that story," [like it needed to be told]Johnson recently told The Hollywood Reporter. "So, none of us watched it because it was fictional. You can't even tell the story. But, hey, that's on them."Technically, that's not true. "And the Larry Bird, I thought that's great." Jeanie buss,
Lakers' owner, told The Athletic
that it made her appreciate Larry Bird. It's hard to imagine. "I mean, we hated him in L.A. so much that it is difficult to think about." And just to see his backstory and what happened with him and the game, what a special athlete he was, and a trash-talker."From the beginning, it always felt like the Showtime Lakers hated Winning Time, despite this same level of fuss being absent when Jeff Pearlman's book — on which the series was based — came out in 2014. Jerry West got so mad at his portrayal that
he publicly demonized the series in a way that perfectly matched the way his character was portrayed, as he demanded an apology and retraction for "baseless and malicious assault" on his name."The portrayal of NBA icon and L.A. Lakers legend Jerry West in Winning Time is fiction pretending to be fact — a deliberately false characterization that has caused great distress to Jerry and his family,"
wrote West's attorney.Kareem was pissed, too — which was par for the course."Each character is reduced to a single bold trait as if the writers were afraid anything more complex would tax the viewers' comprehension," he wrote on his Substack page
, after calling the series "deliberately dishonest" and "drearily dull."
"Jerry Buss is Egomaniac Entrepreneur, Jerry West is Crazed Coach, Magic Johnson is Sexual Simpleton, I'm Pompous Prick. These are caricatures and not characters. Amusement park portraits that emphasize one physical feature to amplify your appearance — but never touching the essence."Sexual simpleton, you say?Well….

"Like I said, women have different fantasies. In an old televised interview, Magic Johnson said that he had six
women at once. One time I had six
at one time," Magic Johnson said in an old televised interview in which he openly
discussed his sexual history, which included sex in elevators and offices.Magic Johnson opens up about sexual escapades, fantasies with women in old interviewThe irony to all of this is that we're in a moment in which sports docuseries and documentaries have hit an all-time high, and most of them suck because they're one-sided propaganda in which the subjects are involved, giving a skewed and subjective tone — objectivity doesn't exist."If I do, I got two of the biggest friends in the business,
," said Johnson when THR asked if he would tackle his own life story in a narrative format. If I do, it will be with a friend because they know me. We'll know."
Funny, Johnson has already done it. Last year, Johnson released
They Call Me Magic[Denzel Washington and Samuel L. Jackson],
a four-part docuseries on Apple TV+ — which featured Jackson. Last year, the Buss Family did the same thing when they released Legacy, The True Story of LA Lakers on Hulu. The 10-part series, which was told from the perspective of the franchise's family, also revealed some dirty laundry. In the final episode Jeanie buss revealed that the family discovered in 2018 that they had a sister named Lee Klose who was given up for adoption when she was an infant. Buss says on camera that she was able to get her birth certificate and sent copies of it. She sent her copies of photos. I remembered my mom telling me a story about how she and my father had a child before Johnny was born, and they gave her up for adoption." I remembered my mom told me a story about how she and my father had a child before Johnny was born and they gave her up for adoption."After all that, Magic Johnson and some of the Lakers are still mad at how a canceled television show, that was based on a book, depicted them when multiple people who were directly connected to that team
released their own series and gave us more drama than anything HBO's Winning Time
could ever imagine. Marlo Stanfield is a prophet.