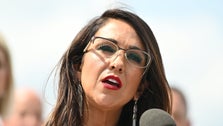 Her campaign had earlier denied the theater's contention that she was vaping. Her campaign earlier denied the theater's contention that she had been vaping.
The normally combative Boebert said in a Friday statement that her actions were not meant to be malicious or cause harm "but the reality is they did."She was kicked out of the "Beetlejuice" musical last Sunday following complaints from people in the audience that she and another guest were vaping, singing, using phones and causing a disturbance.When the lights were still on and as people were taking their seats around Boebert, she could be seen in the surveillance video putting her hand to her mouth then blowing out a cloud of vapor. After the lights went off, the footage showed Boebert dancing in her seat and flashes from her phone as she held it up and appeared to take photos of herself during the performance.
Two days after the incident, Boebert posted in social media: "It's true, I did thoroughly enjoy the AMAZING Beetlejuice at the Buell Theatre and I plead guilty to laughing and singing too loud!"
Boebert noted in her statement that she has been going through a divorce and said her behavior was unacceptable.
"I genuinely did not recall vaping that evening when I discussed the night's events with my campaign manager," she said. "We understand how this appears." Her assertive style has grabbed media headlines, most famously when she heckled President Joe Biden during his 2022 State of the Union address.
She is in her second term in Colorado's 3rd Congressional District, largely covering the state's western half.
The city-owned Buell Theater did not name Boebert when it released the video clips from surveillance cameras that showed the congresswoman and her companion being led out of the theater by members of its staff.
During the confrontation, the two made comments along the lines of "do you know who I am" and "I will be contacting the mayor," according to theater representatives.
The two guests at first refused to leave the venue, even after an employee threatened to get the police, the theater said. The theater reported that the two guests left the venue once a police officer arrived. Report for America, a nonprofit program that places journalists into local newsrooms in order to cover undercovered topics, is a national service program.