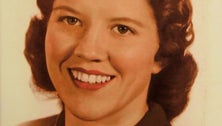 After nearly 50 years, investigators closed the infamous "Lady of the Dunes" murder case on Monday, determining that the victim's husband was her killer.
Ruth Marie Terry, 37, was found dead on July 26, 1974, by a family in the dunes of Cape Cod in Provincetown, Massachusetts. At the time, authorities could not even identify her body but investigated the case as a homicide.
Now, investigators say Terry was killed by her husband, Guy Muldavin.
"Based on the investigation into the death of Ms. Terry, it has been determined that Mr. Muldavin was responsible for Ms. Terry's death in 1974. Mr. Muldavin passed away in 2002," the Cape and Islands District Attorney's Office announced in a news release on Monday, according to Boston 25 News.
According to Provincetown's government website, Terry's deceased body was found nude on a beach towel, with her head resting on folded jeans. Her hands were severed and the left side of her head had been crushed, but there was no evidence of weapons. The case has gained attention over the years and several theories have emerged about what happened. Investigators spent five decades trying to identify Terry, using clay models, DNA samples, age regression drawings, and blood and DNA sample. She eventually became Massachusetts' oldest unidentified homicide victim.
Finally, the FBI identified Terry last October through investigative genealogy, which combines DNA analysis with traditional historical research. The FBI's Boston special agent described this as a "major breakthrough" that would help investigators identify her killer. Investigators found that Muldavin returned from the trip in Terry's vehicle and told people his wife had died. Investigators found that Muldavin had returned from the trip that summer in Terry's vehicle and had told people that his wife had died.
Muldavin was also a suspect in the disappearance of his previous wife and his stepdaughter in the 1960s, according to NBC News.The Provincetown Police Department and Cape and Islands District Attorney's Office did not immediately respond to HuffPost's request for comment.