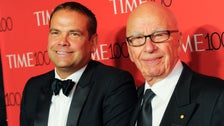 He The Rupert, in the meantime, will continue to serve as chairman emeritus.
"Our companies are in robust health, as am I," he wrote in an internal memo to employees. " Fox Meanwhile, Fox itself has been the target of lawsuits over its coverage of the 2020 presidential election.
Murdoch said he expects to remain involved in the daily "contest of ideas," and to continue to weigh in on what's put out.
"I will be watching our broadcasts with a critical eye, reading our newspapers and websites and books with much interest, and reaching out to you with thoughts, ideas, and advice," Murdoch told employees.
Murdoch's decision to make a formal announcement about his transition to his new role as the 2024 election cycle kicks off has raised questions. La And even now, Rupert has taken pains to convey that he has no plans to fade into the background.
Politico senior media writer Jack Shafer, in a piece titled "The Rupert Murdoch Retirement Myth," makes the case for why we should ignore Thursday's announcement.
"The idea that Murdoch would give up power before he dies defies everything we've learned about him," Shafer writes. "The idea that he would give up power even
after
he dies is equally preposterous."
But it's also true that Murdoch hasn't appeared to be as actively involved in the day-to-day operations of the company for the past two or three years.
Gabriel Sherman, a special correspondent for Vanity Fair, told Brian Stelter for the magazine's "Inside the Hive" podcast that "Rupert has been effectively semi-retired for years," and that he rarely sets foot in the office.
If anything, this week's announcement solidifies Lachlan's position at the top of the two companies."My father firmly believed in freedom, and Lachlan is absolutely committed to the cause," the elder Murdoch wrote in his note to staff.Shafer, too, sees this as the most plausible explanation for the move.
"The only way the announcement makes sense is if he's designed it to boost the status of his chosen heir … so he can motor it further down the path Rupert charted," Shafer wrote.
Lachlan Murdoch, 52, is a London-born Princeton graduate now based in Sydney. He's thought to be more right-wing than Rupert, which would dispel any wishful thinking that Rupert's stepping aside will fundamentally change the character or trajectory of Fox.
Chris Mitchell, a former editor-in-chief of the newspaper The Australian, wrote in his autobiography "Making Headlines" that "Lachlan's conservatism is more vigorous than that of any Australian politician" and is "usually to the right of his father's views."
At the same time, it's quite possible that Lachlan won't remain at the helm forever.
What If Rupert Murdoch Passes Away?
If Rupert dies, his voting shares at both Fox Corp. and News Corp. will be transferred to his four oldest children, who don't all share their father's conservative ideology.
James Murdoch, for instance, famously resigned from the board of Fox Corp. in July 2020, citing "disagreements over certain editorial content published by the Company's news outlets and certain other strategic decisions."
James and his wife, Kathryn, both supported Joe Biden in the 2020 presidential election and donated $100 million to political groups, including some that champion Democratic-related causes, through their foundation during that election cycle.
Tech journalist Kara Swisher, who once worked for the Murdoch-owned Wall Street Journal, predicted that the companies will likely be sold once Rupert dies, and that the rest of his children will be unlikely to throw their support behind Lachlan.
Swisher also speculated that billionaire Elon Musk could emerge as a buyer.
Prediction: It will be a short reign of the crown prince — after the old man goes, the other siblings will have the con and it will all be sold off (Elon? Right https://t.co/Nkvlp2vvjS
— Kara Swisher (@karaswisher)
Fox's Challenges Are Here To Stay
Fox's decision to go along with former President Donald Trump's lies about the 2020 election has already cost the network millions of dollars.
Earlier this year, the network struck a last-minute $787.5 settlement with Dominion Voting Systems, a voting technology company, on the day they were about to go to court. Dominion had sued Fox News for defamation over its spreading of baseless claims that the company helped Biden steal the presidency.
Some have speculated that Rupert may be stepping down in part to avoid testifying in that case.
The company also faces the risk of losing the broadcasting licenses issued by the Federal Communications Commission for its local broadcast network affiliates, as HuffPost's Paul Blumenthal has reported.
These challenges, coupled with the ongoing decline of the cable television model, point to a rocky future for the network.
Rupert Murdoch's decision to task Roger Ailes with creating a cable TV network, which launched in 1996 modeled after talk radio and hosts like Rush Limbaugh, changed America forever.
"While CNN brought its viewers international coverage and took the
part of its name very seriously, Fox News avidly pursued the culture wars and reshaped American political discourse in its own image," Slate's Justin Peters writes.
Peters argues that Lachlan's ascent won't change Fox, because "he is, after all, his father's son."
Sherman also reflected on what Rupert Murdoch's reign at the top of his media empire has meant for him on a personal level.
"Everything he touched ended up being destroyed," Sherman told "Inside the Hive." "He got the power that he wanted, but at the cost of, you know, both his family and the world at large."