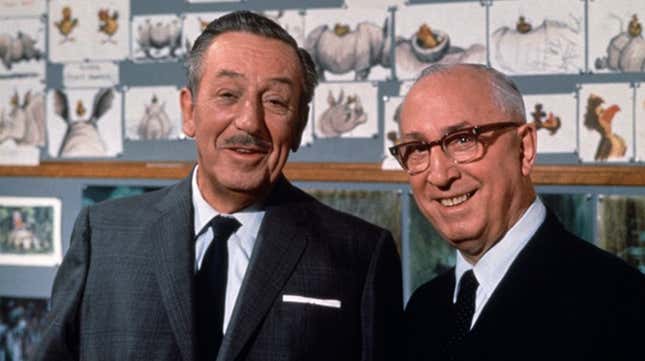 Filmmaker David Gordon Green's Disneyland biopic centering on Walt Disney and his brother Roy O. Disney is currently being held up… for now.
We Rode the New Disney Coaster Guardians of the Galaxy Cosmic Rewind
The Exorcist: Believer director told io9 exclusively, "It's on pause right now. There's some rights issues." The film from Green, who excels in finding the honesty in any genre from horror to comedy, would surely offer an interesting and complex view on the Disney family. It was going to be fun. It's a really interesting story about the brothers."The film
was set to chronicle the journey taken by Disney in dreaming up his kingdom; Roy advised him after their success in the movies, but–always a man of tomorrow–Walt roped his brother into another giant gamble with Disneyland. They would often butt heads, but ultimately changed the world of entertainment. Walt may be the name everyone
remembers, but Roy also played a pivotal role in making Disney the empire it is today. According to an story shared on Roy's profile in the Walt Disney Family Museum Historical Archive: "He paid ABC 15x its $500,000 investment to buy out its 34 % interest. This gave Walt Disney Productions control of the park and the freedom to take elsewhere their television series that ABC cancelled, the Mickey Mouse Club and Zorro. This figure, $7.5 million, led even Walt Disney to ask Roy before the negotiation, 'Do you think it's necessary?'"Hopefully, there will be good updates on this project soon; our dream casting is Dan Stevens
as Walt and Ryan Gosling as Roy. Hey! As time goes by, they will age into their roles. But hopefully, we won't need to wait long for the Disneyland movie project to be no longer "on hold."Want io9 News? Check out when to expect the latest Marvel,
---
Star Wars, and Star Trek releases, what's next for the DC Universe on film and TV, and everything you need to know about the future of Doctor Who.