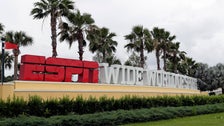 NEW YORK (AP) — Hours before the fall's first "Monday Night Football" game, Disney and Charter Communications have settled a business dispute that had left some 15 million cable TV customers without ESPN and other Disney channels.
Disney said that because of the deal, the majority of its ESPN customers would have service restored to Charter's Spectrum cable system immediately. Charter confirmed the agreement on Monday.
The deal was announced just hours before ESPN and ESPN2 were set to broadcast the New York Jets vs Buffalo Bills season premiere. As part of the agreement, Charter and Disney will offer the Disney+ service, which is ad supported, to Spectrum customers. They also said that ESPN's direct-to-consumer service, which is still in the works, will be part of the Spectrum service.
Under the deal, Spectrum will offer its customers a lineup of 19 Disney-owned stations. Charter had sought greater flexibility to let its cable customers pick and choose which networks it wanted as part of their service.
Financial terms were not revealed.
"Our collective goal has always been to build an innovative model for the future," Disney CEO Robert Iger and Charter CEO Chris Winfrey said in a prepared, joint statement.
"This deal recognizes both the continued value of linear television and the growing popularity of streaming services while addressing the evolving needs of our customers," they said.
Many television viewers were less interested in the business particulars than they fact that they couldn't watch ESPN during the U.S. Open tennis tournament and opening weekend of the college football season.
But the matchup Monday between the Buffalo Bills, one of the most powerful teams in the NFL, and the New York Jets led by new quarterback Aaron Rodgers, was another huge deadline.