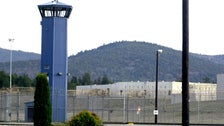 A Northern California prison was on generator power for a second week and inmates were issued masks to cope with unhealthy air after wildfires knocked out electricity and choked the remote region with smoke.
Dozens of lightning-sparked blazes have burned for weeks near Oregon, where the largest group, the Smith River Complex, has charred more than 115 square miles (298 square kilometers) of forest.
Last week flames came within about 5 miles (8 kilometers) of Pelican Bay State Prison, but firefighters protected communities around the maximum-security lockup that houses about 1,600 inmates in Del Norte County, said Dev Khalsa, a spokesperson at the fire's command center.
"Unfortunately the smoke cover has been pretty thick," Khalsa said. Air quality was unhealthy in the coastal area Wednesday, according to the U.S. Air Quality Index.
Lingering smoke infiltrated Pelican Bay housing, where Terri Thompson Jackson's husband, Jeffrey Jackson, is incarcerated. She became concerned when he coughed throughout a recent phone call.
"I said, 'Do you need to get a COVID test?' He said, 'No it's these wildfires. It's terrible,'" Thompson Jackson said. Jackson told her the power had gone out and many inmates were confined to smoky cells with very little ventilation.
In a Facebook group for loved ones of Pelican Bay inmates, "everyone was wondering, is it safe? Are they going to have to evacuate?" Thompson Jackson said.
The prison was never in immediate danger from flames, the state Department of Corrections and Rehabilitation said. Power cannot be restored until the fire has been fully contained, the agency said.
Generator power was expanded last Friday and this week hot meal service resumed, "the population can shower normally, and items like barbershop tools and tablets can now be recharged," agency spokesperson Tessa Outhyse said in an email.
Fans, air purifiers and masks were also brought in, she said. The agency is working with health departments and prison medical staff, Outhyse said, and has contracted vendors that can respond statewide with supplies for emergencies.
During emergencies like wildfires, corrections officials are in regular contact with law enforcement, fire departments and the California Governor's Office of Emergency Services, the corrections department said. Institutions with vulnerable populations like prisons, state hospitals and veterans homes follow their own safety and evacuation plans with help from the state, said emergency services spokesperson Brian Ferguson.
The corrections department said its plan follows the National Incident Management System, which provides all federal, state, and local response agencies with a "consistent set of principles, management structures, and a systematic approach to emergency response."
A Sacramento County jail was evacuated during floods earlier this year. In 2021, the enormous Dixie Fire came very close to the California Correctional Center and High Desert State Prison in Susanville, California, but no evacuation was needed, Ferguson said.
"The logistics involved in transporting those people in a safe way is really hard to fathom," said Chesa Boudin, Executive Director of the Criminal Law & Justice Center at the University of California, Berkeley, School of Law. A quarter of Pelican Bay's inmates are in a unit commonly known as solitary confinement, which would add to the challenge.
Individuals "in a cage, unable to move, unable to pick up and flee" while breathing in smoke borders on inhumane and indicative of a growing problem caused by extreme weather events, Boudin said.
"We have seen climate-related, and certainly fire-related, impacts on jails and prisons across the globe with an increasing level and severity as climate change has picked up pace," Boudin said.
That includes excessive heat, he said.
In 2022, California corrections officials instituted a Heat Illness Prevention Plan for each of the more than 30 prisons, following a "tailored operational response" for extreme temperatures. It includes increased access to water, ice, fans, portable cooling units and shelters, such as gymnasiums or chapels.
California inmates are particularly vulnerable to climate hazards such as wildfires, flooding and surging temperatures because the corrections department's prisons are "in or near remote areas, have an aging infrastructure and population, and are overcrowded," said a study released in June conducted by the UCLA Luskin School of Public Affairs for the Ella Baker Center for Human Rights.