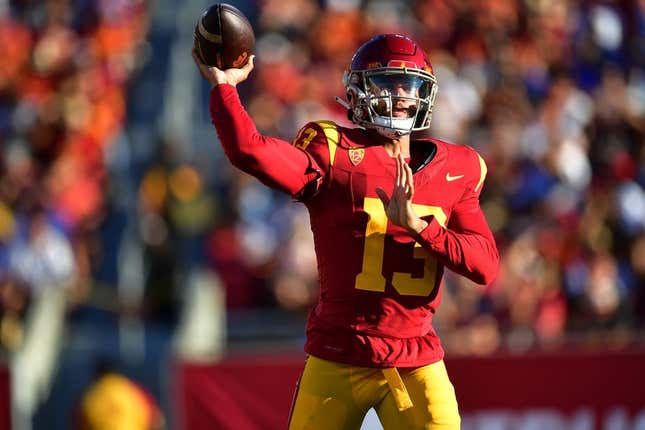 Reigning Heisman Trophy winner Caleb Williams passed for four touchdowns and No. The No. 6 USC Trojans dominated San Jose State 56-28 in Los Angeles in Saturday's season opener. | Agree to Disagree
Zachariah Branch caught a touchdown and returned a kickoff 96 yards for another in his college debut for the Trojans, who amassed 501 yards of total offense.
USC went into halftime holding a 21-14 lead after San Jose State quarterback Chevan Cordeiro found a wide-open Nick Nash for a 28-yard score just eight seconds before intermission.
But the Trojans struck for a pair of game-breaking touchdowns to open the second half. Austin Jones, who rushed for a team-high 54 yards on just six carries, scored the second of his two TDs on a 3-yard carry to cap a 10-play, 75-yard drive.
Jones had scored a 2-yard touchdown at the end of a 10-play, 52-yard drive in the second quarter.
USC pulled ahead 35-14 when Williams hooked up with Branch for a 25-yard touchdown with six minutes left in the third quarter.
Branch wasted little time finding the end zone again. Branch returned the kickoff to the Spartans after San Jose State's second touchdown, this time from a distance of 32 yards, to end any hopes of a Spartans rally. Williams' 18-of-25, 278-yard passing performance included a 76-yard scoring strike to Tahj Washington in the second quarter on a botched snap.
Williams took the ball off the bounce, evaded a would-be sack, then found Washington deep. USC scored after a 13 yard touchdown pass to Dorian Singer.
San José State tied the score early in the second half when Kairee Robinson ran for a 1-yard gain. The Spartans were forced to play from behind for the remainder of the game. Cordeiro completed 21-of-38 passes, resulting in 198 yards with three touchdowns. Nash caught six total passes for 89 yards.
–Field Level Media