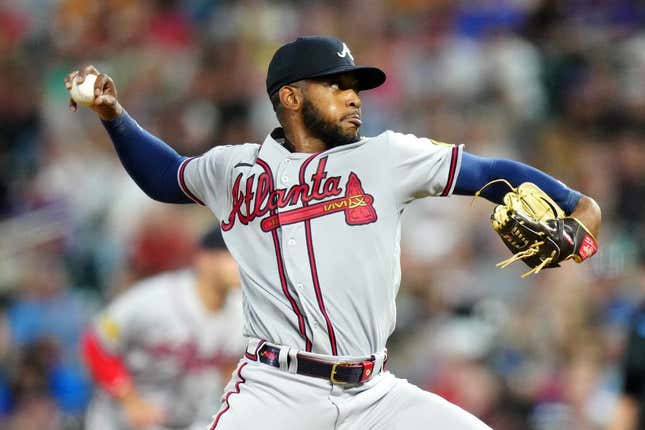 Kevin Pillar homered among his two hits, Marcell Ozuna and Orlando Arcia also went deep, and the Atlanta Braves beat the Colorado Rockies 7-3 in Denver on Wednesday night.
Michael Oher On New Book, NFL, The Jets, Aaron Rodgers, Running Backs Contracts & He Sings!
Ozzie Albies had three hits and Austin Riley contributed two to help starter Darius Vines get the win in his major league debut for Atlanta, which won all seven games against the Rockies this season.
Alan Trejo homered and Nolan Jones had two hits for Colorado.
Pillar got the scoring started with a solo home run in the third inning, his seventh of the season, before the Rockies got even in the bottom of the inning.
Trejo reached on a one-out walk and stole second before Charlie Blackmon was hit by a pitch. Ezequiel Tovar then singled up the middle to bring home the tying run.
The Braves went back in front in the fourth inning. Riley and Matt Olson both singled, putting runners on the first and second positions with no outs. Ozuna's grounder was wide and Tovar's throw from second base to Riley allowed him to score. Olson scored then on Travis d'Arnaud's groundedout, making it 3-1. Atlanta extended their lead in the 6th. Freeland walked d'Arnaud, and Arcia then hit his 16th home run for the season. Pillar then singled to chase Freeland.
Evan Justice came on and after Pillar stole second Michael Harris II singled off Justice's glove to bring home Pillar.
Freeland (5-14) allowed seven runs — six earned — on eight hits in 5 2/3 innings.
Colorado got a run back in the bottom of the sixth. Elias Diaz hit a single, Jones doubled the ball and Hunter Goodman smashed a sacrifice fly into center field to make it 7-2.1001010Vines (1-0), then made his final out. He allowed two runs on four hits and struck out five with one walk in six innings.
Trejo led off the bottom of the seventh with his third home run of the season.
–Field Level Media