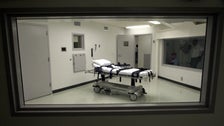 The state of Alabama wants to use a method that has never been tested to execute a death row inmate whose execution went wrong before.
Prosecutors want to push forward with executing 58-year-old Kenneth Eugene Smith using nitrogen hypoxia, which would involve him
inhaling nitrogen without the presence of oxygen, effectively causing suffocation. Smith was strapped tightly to the gurney for four hours during a scheduled execution in November. The Alabama Attorney General Steve Marshall wants to change the date of Smith's death. "It is a travesty that Kenneth Smith has been able to avoid his death sentence for nearly 35 years after being convicted of the heinous murder-for-hire slaying of an innocent woman, Elizabeth Sennett," Marshall said in a
on Friday. According to the Montgomery Advertiser
, Smith was convicted of killing Sennett in the 1980s. Her pastor husband Charles Sennett had hired Smith, John Forrest Parker and another person to kill her, so that he could collect on his insurance policy. Smith's lawyers tried to stop his execution in 2022 while the state continued to move forward. The day Smith was to be executed, in November 2022 executioners were unable to find a vein to administer the lethal injection. The Associated Press reported that the execution team had been able to successfully insert one of two intravenous lines in Smith's vein, but could not establish a second line before midnight. Alabama Department of Corrections commissioner John Q. Hamm stated that executioners attempted "several places" on Smith. AL.com reported at the time. "At some point before midnight, Defendants
stopped their attempted execution of Mr. Smith, but not before inflicting grave physical pain and emotional trauma, the likes of which the human brain is not able to process," Smith's attorneys alleged in a motion against ADOC.
Smith was left on the gurney for hours, unaware that his execution had been stayed.
Alabama has botched multiple executions involving the highly controversial lethal injection process in recent years, failing to access veins — including that of Alan Eugene Miller, once known to be the "only living execution survivor." (Smith's attorneys said that Smith has now joined Miller as one of the only two execution survivors in the U.S.)
"Alabama has a dismal record of 'getting it right' when it comes to executions – the state botched three lethal injection executions in 2022. It is the very last state that should now experiment using an unprecedented, untested procedure with unknown consequences," Robin Maher, the executive director of the Death Penalty Information Center, told HuffPost.[ADOC]Smith had originally requested death by nitrogen hypoxia. It is not the only inmate who has requested an alternative execution method. In Oklahoma, two inmates requested death by firing squad to avoid prolonged pain from the lethal injection procedure. While the lethal-injection process is marketed as "humane", the experience has been likened to that of being exposed to chemical fire. )
A heavily redacted 41-page document detailing the protocol for nitrogen hypoxia, a
never-before-used procedure, says that a mask will be placed on the individual's face. The document states that nitrogen gas will be administered after the introduction of the gas for either 15 minutes or 5 minutes, depending on whether the EKG shows a flatline. The procedure causes people to suffocate to death due to a lack of oxygen, and it's permitted in Alabama, Oklahoma and Mississippi.The Alabama Department of Corrections did not immediately respond to HuffPost's request for comment. Smith's lawyers declined to comment.